The Roll 'n' Recycle® certification program, launched in Australia just over 12 months ago, has been awarded the Diamond Award for the 2021 Dow Packaging Innovation Awards – the top global sustainability award for packaging.
Roll 'n' Recycle was recognised for underpinning O.F Packaging's high-barrier, kerbside recyclable muesli pouch for the Brookfarm brand – a first in Australia for kerbside recycling.
David Luttenberger, CPP, global packaging director for Mintel Group Ltd. said about this year's awards, "With these entries I've seen how we are entering a new phase, or next generation, of sustainable solutions, which I like to call responsible solutions. Because responsibility carries with it a sort of intuitiveness. And we have seen it this year, especially with the Diamond winner creating a solution with the consumer's actionability in mind."
The Diamond award is the highest honour in Dow's Packaging Innovation Awards, which this year, its 33rd year of running, saw 189 entries leading to 36 shortlisted finalists. The Dow Awards, presented on 31 March, 2022 recognise packaging projects from around the globe demonstrating the very best in sustainable innovation.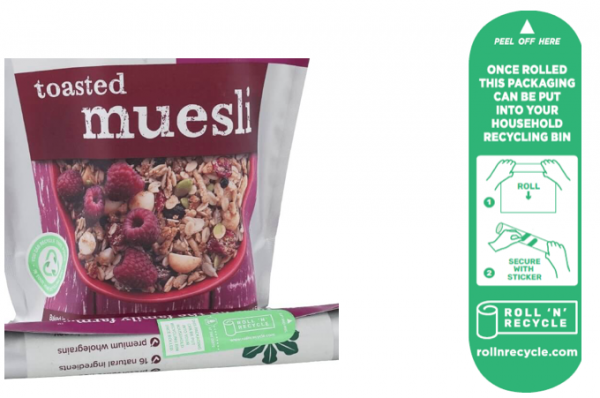 The Roll 'n' Recycle packaging accreditation enables consumers to transform the empty, monopolymer flat pouch into a cylinder (3D shape) by rolling it up and fastening it with a self-adhesive label already attached to the packaging. The rolled pack is suitable for the kerbside recycling bin so it can be recycled through existing processes.
It's another accolade of the highest level following Roll 'n' Recycle already winning the prestigious World Star award, two GOLD PIDA awards and being a finalist in the Sustainable Packaging Awards all in the last year. Roll 'n' Recycle continues to be recognized alongside some of the most innovative businesses in the world.
Founder of PREP Design Anthony Peyton said, "We are over the moon to receive yet another high-profile award, as it again validates the reason why we created it in the first place- to divert valuable resources away from landfill and further strengthen the idea of a truly circular economy. It's great to see it being adopted and its value to the packaging and recycling industry being recognized at the highest level. Congratulations to the collaboration team at O F Packaging, Result Group (formerly Result Packaging) and the Brookfarm brand".
More detail on the award can be found here: Roll 'n' Recycle winner of the prestigious 'Diamond Award'
The complete list of Diamond Finalists in The Packaging Innovation Awards 2021 can be viewed here.